Breeding exotic animals since 1985.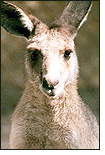 "Welcome to the wonderful world of macropods, the various members of the kangaroo family. Whether you are looking for an exotic pet, display animal or breeding stock, we provide a proven system for our customers to follow while guaranteeing the health of all of our animals. This is a winning combination that has continued the success of our farm worldwide for many years.
"We also offer an inclusive book with an interactive CD-ROM covering every aspect of macropod care.
"Come inside, visit our farm, and take a peek into the wonderful world of macropods. "
- David McCauley